A conversation with Canadian landscape artist Steve Driscoll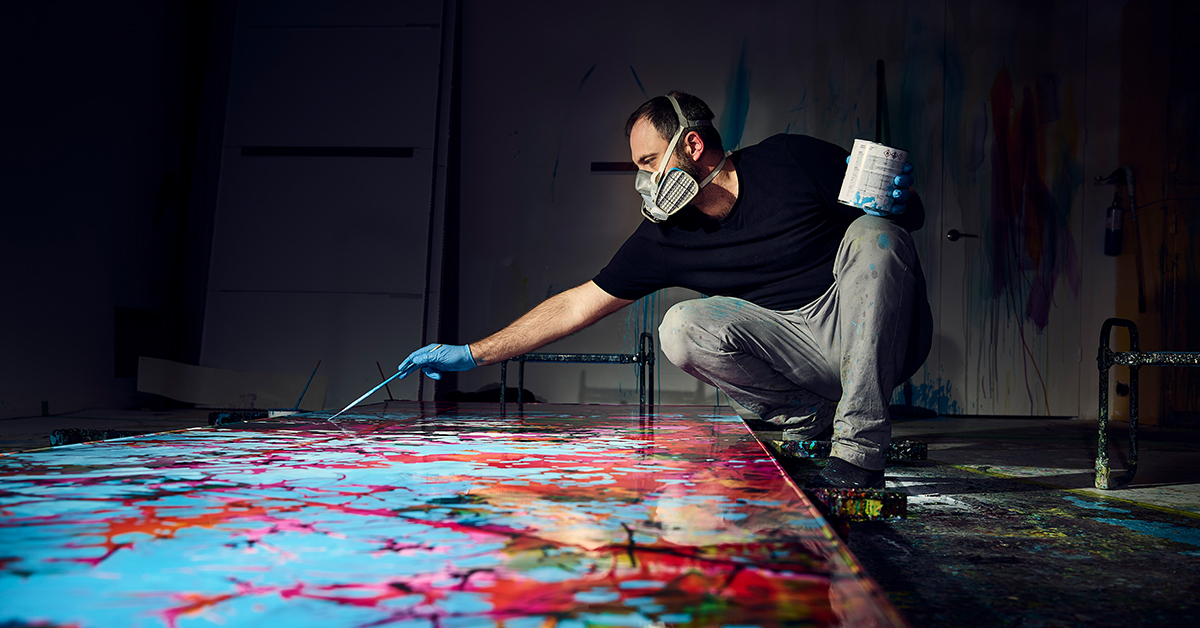 When you visit Manulife's Bloor Street offices in Toronto, you'll see how the walls have been transformed by breathtaking foliage, as nature has taken over the once-white polished marble. This reflects the artistic journey of Steve Driscoll, whose recent work exemplifies his connection with the great Canadian wilderness.
Steve translates his experiences hiking, camping, and canoeing outdoors into immersive vistas and close-ups. Landscape art may be the most traditional form of Canadian art, but his painterly spontaneity and experimentation with light, colour, and scale bring something entirely contemporary to the genre.
When it came to commissioning new artwork, Manulife felt Steve was the ideal choice. As the world's largest natural capital investment manager¹, Manulife has owned real assets (such as timberland) for more than 95 years. Doing so adds diversification while managing risk and helps to protect against market downturns.²
Manulife wanted its offices to embody the same connection to the natural world. The resulting canvasses, which now fill the 50 foot by 8 foot space, bring the outdoors in—offering windows into the natural landscape that surrounds us just beyond the city limits.
Inspiration and creative process
Although no stranger to creating large pieces, the scale of the Manulife commission is what initially sparked Steve's creativity.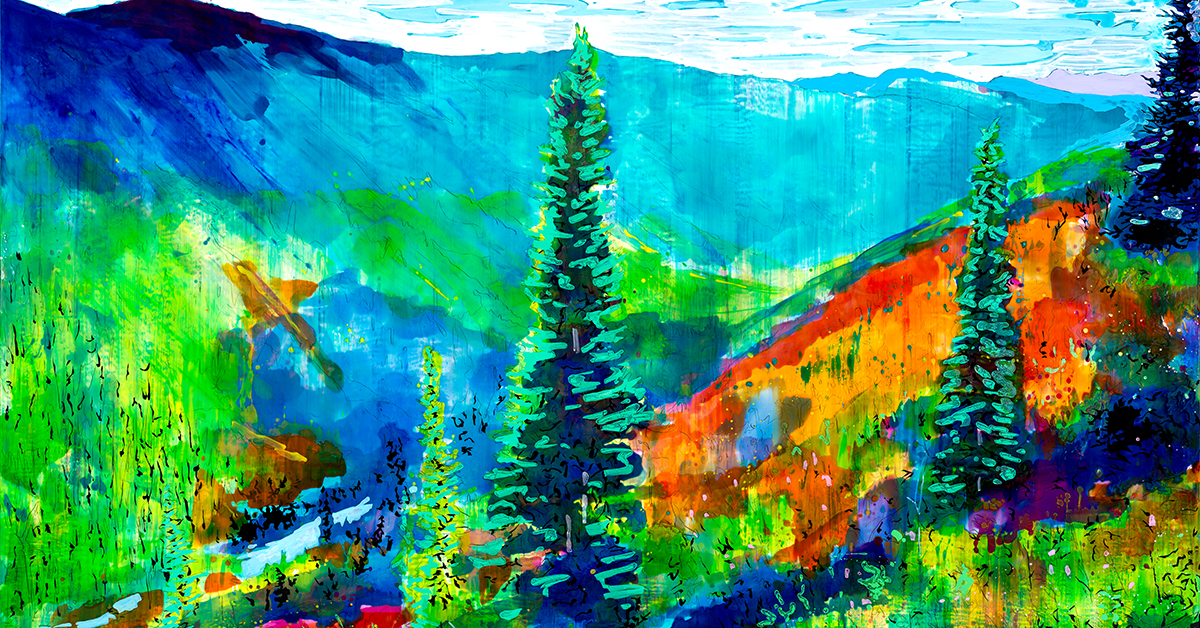 "A Long Way Home – From Far". Steve Driscoll, 2023.
"With a space this size (50 ft x 8 ft), I wanted to create a storyboard aspect to the work and saw it as an opportunity to create four continuous works that build a story element and timeline," says Steve. "The experience becomes more immersive this way—the viewer isn't just standing in front of a single image, and what you get is more of this walk going in between each piece, provoking you to contemplate what's going on.
"I enjoy doing long-distance hikes in the outdoors, and that's how I look at this series," Steve says. "The overarching theme behind the piece is a journey. It starts in one place and leads you through vastly different locations: underneath the canopy, long-distance mountain views, exciting spring pathways, and brambles and dense, organic growth. I wanted to put those elements together to highlight the diversity that exists throughout the trail."
Material and technique
A Long Way Home is painted in Steve's signature technique of pigmented urethane rather than more traditional oils and acrylics. This unlikely and challenging medium is coaxed into a dazzling range of effects, emulating the black of the forest's inner recesses, the pearly translucence of restless clouds, and the golden radiance of sunlit leaves. The result is often intense and vibrant colours, which the artist believes has the power to trigger memories and connect with people's nostalgia and moods.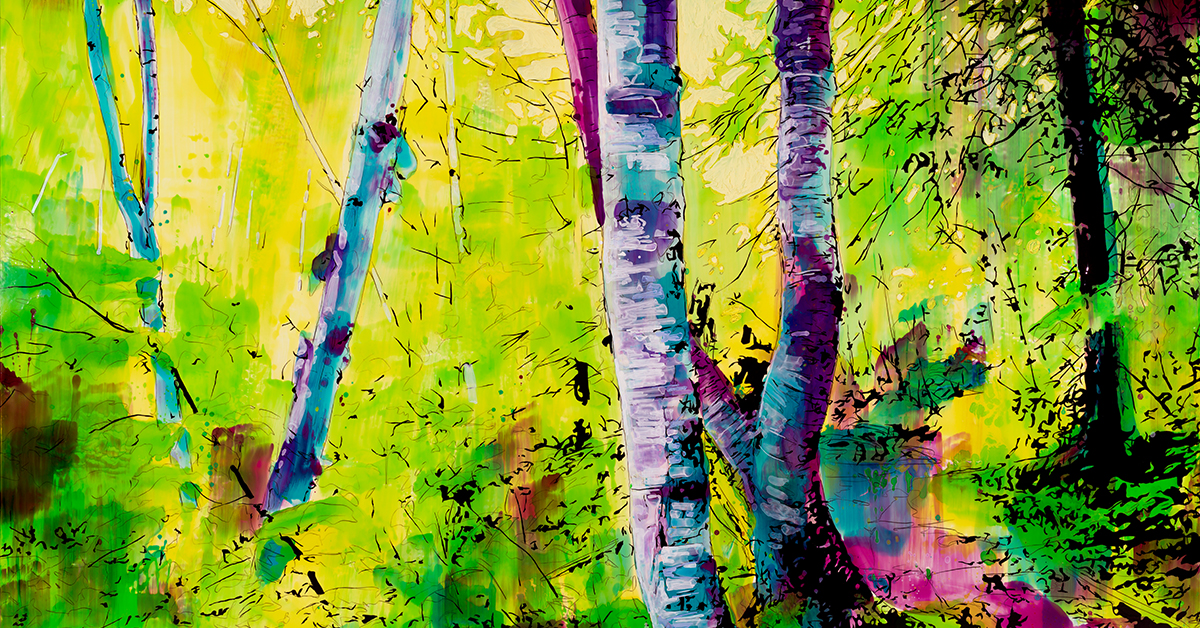 "A Long Way Home – Up Close". Steve Driscoll, 2023.
In true Canadian fashion, it was the weather that brought Steve to his chosen medium. It was raining on a day when he had to transport a large water-soluble ink drawing ("it's notoriously raining every time you're moving artwork," he laughs), and he remembered the protective qualities of urethane from his days working at Canadian Tire. "I sprayed it on my panel, and it did some fantastic things to the surface. It's like immersing paint underwater."
Steve was sufficiently intrigued by urethane's possibilities to continue experimenting with it, despite having to equip his studio with special ventilation in order to safely use this potentially toxic substance. At first it served as a binder for abstracts, but then Steve, keenly sensing the potential of materials, saw that urethane was taking him in a different direction.
"It declared itself as a medium that can be used for depiction, once I got a handle on how to control it," says the artist, who through perseverance is now at the point where he can make this tricky stuff do his bidding. "Timing, level of mixes, consistency, air pressure, how much wind or ventilation is in the room, can all really affect the painting. It's a perfect balance of all those things that allow me to do what I do."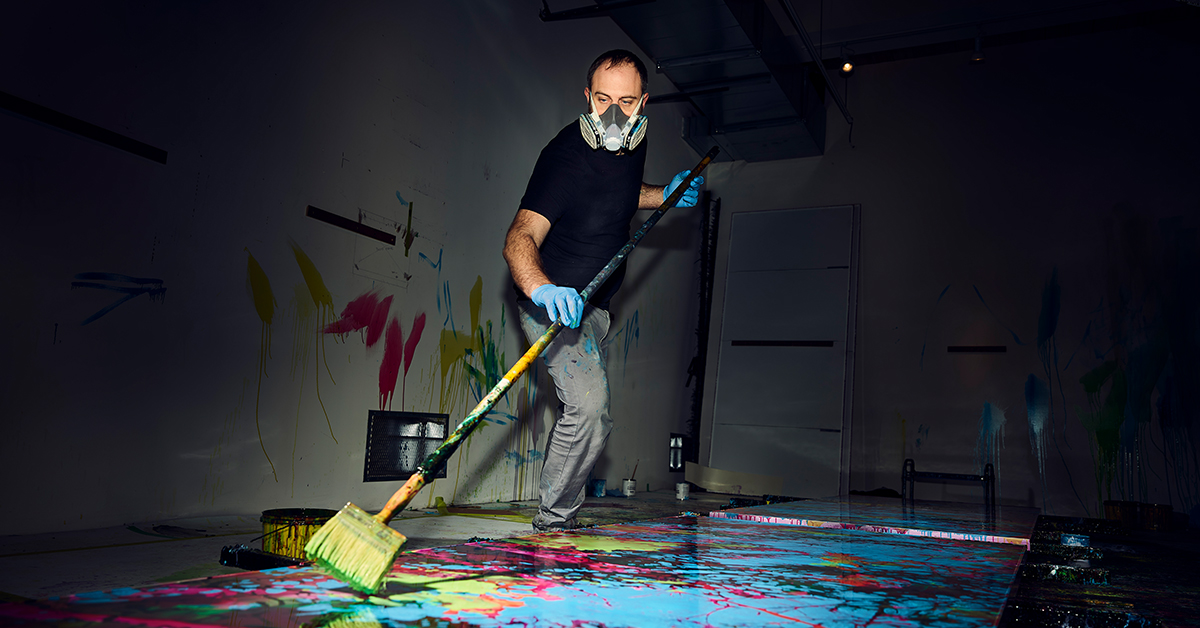 Steve Driscoll at work in his studio.
Steve's chosen medium also dictates how he goes about creating each piece. The artist places the canvas on the floor ("there would be serious drip if I tried painting on a wall") and methodically builds the image up, first drawing outlines and filling out the darker areas to provide a sense of composition. Once he's happy with these building blocks, he continues to add additional layers, climbing a ladder to get a better view of his progress. Surprisingly, Steve completes every artwork in one sitting, regardless of how large it might be. He explains: "It can take around 15 hours for a larger piece, but that's how I like to work. It's like an action painting, all done in one sitting with no way of going back and editing. If it doesn't work, it gets thrown out."
Past experience and what's next
Steve has recently returned from a six-month residency in Victoria, B.C., which involved a five-day drive west, with regular stops to take in the scenery along the way. The journey there and back allowed him to witness the landscape in starkly different forms across summer and winter, an experience he expects will feature in future projects. His next show will be in January of 2024 at the Metivier Gallery in Toronto.
"The changing seasons has a huge effect on how things look out there, and they're going to form a lot of our influences," the artist says. "Being out west has also shaped what I've been thinking about, and I'm looking forward to images to come with mountains and oceans rather than lakes."
While the subjects may change, the Canadian wilderness will continue its hold on Steve, and he, in turn, will continue to interpret its raw beauty in his own unique style. He explains: "I've spent time in the U.K., Ireland, Denmark, and France, among others, and wherever I go, I can always appreciate the landscape. But growing up as kid near Algonquin, you can't cut that out of you. You're born into a vast and dramatic landscape, and it's hard to pry that from your soul."
1 IPE research as of 2/5/2023. Ranking is based on total Natural Capital AUM, which includes forestry/timberland and agriculture/farmland AUM. Firms were asked to provide AUM and the as of dates vary from 12/31/2021 to 12/31/2022. 2 Diversification does not guarantee a profit nor protect against loss in any market. Manulife has held real assets in its own balance sheet since 1925. 

AM#3132241